MOBILIZE
Mobilizing Churches
We desire for our local churches to be healthy, growing, and mobilized for more.
We want them to flourish in the communities that God has called them to, and be a vibrant part of seeing more of the 19 million people in our geography coming to know Jesus and life in Him. This dream will require the creation of cultural norms that will naturally lead to healthy, mobilized, and reproducing churches.


As your church flourishes in your own geography, know that you are part of a broader regional team of churches and church plants spreading across the central part of the country all chasing after the same thing: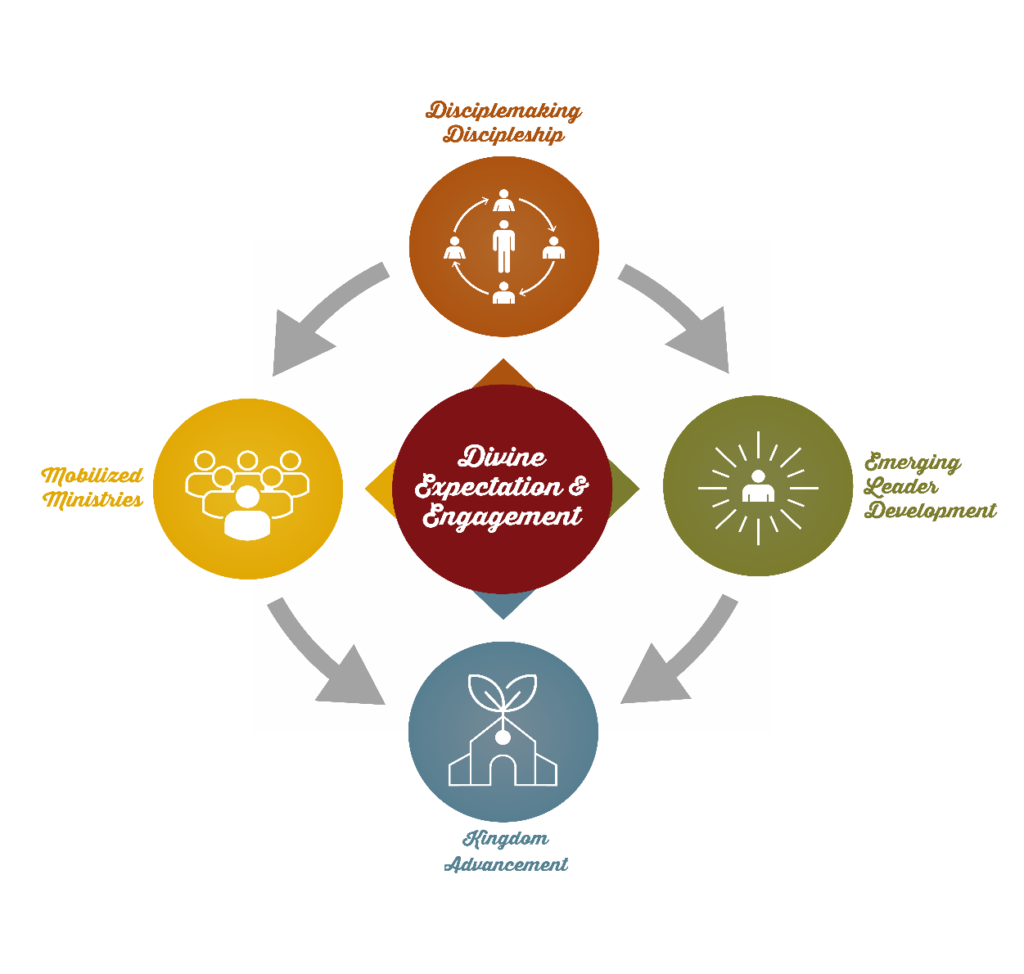 IMAGINE
one shared mission
Imagine more than 600 churches seeking to create a thriving, reproducing culture with one shared mission. Here's the roadmap for getting there.
SEVEN
7 Cultural Dynamics of Thriving, Reproducing Churches
Divine expectation and engagement
There is a deep realization that apart from Christ there is nothing of eternal value that we can accomplish. There is a profound sense that God is at work and that He will make Himself known in real and powerful life-transforming ways as the people of God earnestly engage with Him, listen for His voice, and go about Kingdom work with great expectation that God will accomplish more than all we could ask or imagine. (Ephesians 3:20)
Healthy interdependent plurality of leadership
Leadership in the Kingdom is not limited to one or two at the top of a hierarchical system. Rather, effective Kingdom leadership is lived out among a larger number of leaders working in tandem according to their gifting within productive, healthy, relational environments where there is balance in diversity according to Ephesians 4:11.
Balanced ministry (reaching, discipling, equipping, adoring)
Every Kingdom ministry must focus on all four aspects—reaching the lost, discipling the found, equipping the saints, and fostering adoration of God. If ever these aspects become unbalanced, the ministry will cease to bear the kind of fruit it is supposed to bear.
Directional clarity, ownership, and engagement
Having exceptional clarity of what God has called the environment to be and do allows others to take ownership in the adventure. What people own they love, care for and enhance. (Acts 4:32)
Multiplication (disciples, leaders, missional presence, planting)
Built into everything that is done is an expectation of multiplied increase. The focal points of multiplication are in the areas of disciples, leaders, missional presence, and church planting. There is a distinction between addition and multiplication that must be evident as a result of everyone embracing and engaged in multiplication.
Clarity and fruitful engagement of Acts 1:8 environments
The environment is able to clearly identify and articulate their Jerusalem, Judea, Samaria, and the ends of the earth that the Lord has called them to and can show how they are regularly, intentionally, and fruitfully engaged in those areas. (Acts 1:8)
Kingdom collaboration
Transformational Kingdom impact is the result of embracing and practicing partnership with others on mission, both in the C&MA and beyond.
Discover
We'd love to help you more deeply discover your current reality and the growth areas most crucial for moving forward.
Develop
Having more clearly defined reality, we now begin to strategically set out the roadmap for the future. What are we doing to press forward into what Jesus has for us?
Deploy
You've defined reality. You've built a strategic roadmap. Now we get rolling! Need ongoing help? Need further resources? Training? Schooling? Counseling or encouragement? We would be glad to join you and help in any way we can. Please reach out anytime!